Website and Hosting Services
What We Do
We build and maintain customized business websites

Provide and Manage Website Hosting

Perform Website Maintenance and Administration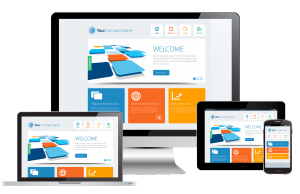 Why we Specialize in WordPress
WordPress is by far the most popular content management system in use today.  There are currently over 75 million websites in place that run on the WordPress platform.  The sheer volume of sites running WordPress means there is a robust development community in place.  This helps reduce implementation costs as the tools and products needed to create highly customized websites are readily available.
Although there are costs associated with hosting a WordPress site, the software itself is open-source and free.
What WordPress has in common with other content management systems (CMS) is ease of use.  Implementing a content management system allows user to make site updates without the need to know complex HTML and CSS coding. This flexibility opens the door for increased involvement by a larger community of users.
It's not just for blogs. When WordPress was launched back in 2003 it was intended to be used as a blogging platform. Well much has changed since then.  It didn't take long to realize the benefits associated with using a content management system. Since its inception WordPress has evolved to become a powerful tool for the operation of business websites. The associated ease of use, customization, and Search Engine Optimization properties helped pave the way for it to become the most popular choice for new business websites in place today.
We take great pride in being an invaluable asset for those we support.  It's our goal to retain clients and continue business relationships by providing consistently exceptional results.
If you're searching for solutions, need assistance, or just advice, please ask!
Managed Hosting Provided by RPCM
Our hosting plans utilize state-of-the-art Linux Hosting servers built with solid-state drives for speed and reliability. Cloud-powered infrastructure provides real-time redundancy for maximum reliability and up-time.
At Ryan Pace Communications Management we specialize in the world's leading content management system: WordPress.  Our hosting plans are tailored to the platform and most include regularly schedule site maintenance, updates, security monitoring, and data back-up protection.  This let's you focus on managing your business while we keep your website up and running.
Questions about our services?
Ryan Pace Communications Management
Post Office Box 85
Slatyfork, WV 26291